R.I.P. FERRARI 2018
---
I Ruski jutjuberi počeli da se sprdaju,eeee crveni moji
R.I.P. FERRARI 2018
---
Always be yourself, unless you can be Batman. Then always be Batman.
---
Priča se da je Ferari stavio senzore da bi testirao revolucionarno hlađenje motora za 2019 godinu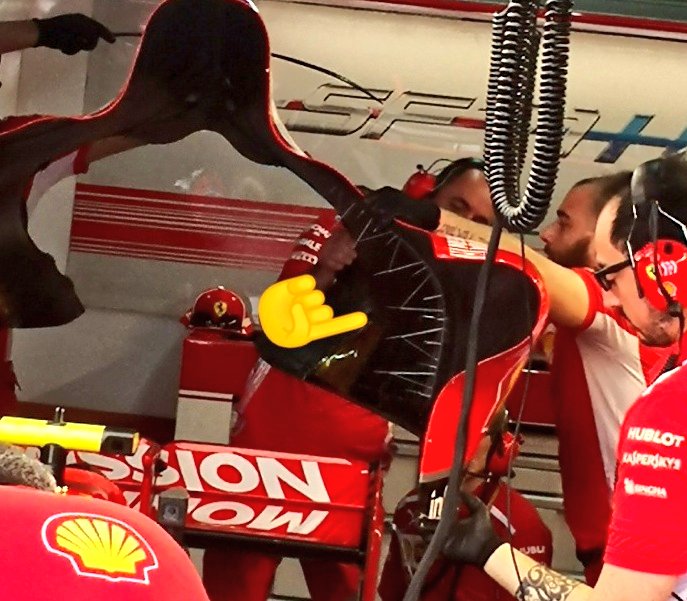 In the first free practice session of the Brazilian GP, ​​Ferrari carried out fluid dynamics tests on the sides, mounting six sensors in the bellies to simulate a 2019 system that should allow particularly tight sides.
Ferrari did not try any time in the first free practice session of the GP of Brazil, but the team of the Cavallino worked hard to bring home useful results to the definition of what will be the car of 2019. The technicians directed by Mattia Binotto are studying the new bellies for the 670, that is to say the car next year which for now is only identifiable by the project number.
Enrico Cardile and David Sanchez, the aerodynamics that two years ago had invented on the SF70H a new concept to draw the sides, moving the radiator's mouths farthest from the front tires, avoiding the harmful effects of the turbulence generated by the wheel in motion.
The idea of ​​2017, then copied by many teams this year, will almost certainly be revolutionized on the Red of 2019 and it is rumored that Ferrari could bet on even narrower sides with a different cooling system. It is for this reason that a rake of sensors was also mounted inside the sides that have been modified in their fluid dynamics.
The two SF71Hs shot in different configurations just to give answers to the Maranello technical office. The skilled Albert Fabrega managed to catch the moment when they could see the sensors under the Ferrari body.
The camera, on the other hand, was seen at the bottom of the floor and was used to monitor the flow directed towards the diffuser and the flow diverters that reappeared on the floor near the tracks.
Via Albert Fabrega
https://it.motorsport.com/f1/news/ferra
... 10884/amp/
---
Statistika
Sent from my Redmi Note 4 using Tapatalk
---
Ko je OnLine
Korisnika u ovom forumu: Nema registrovanih korisnika i 2 gosta